Happy Halloween!
I usually prepare my recipes the night before and post about them the next day, but I didn't want to share my Halloween feast the day after Halloween. So here it is today :) And you can check back later today for photos and a review of each of the dishes.
My Halloween Feast Menu consists of Nightcrawlers and Eyeballs, Vampire Poison Bread, and cupcakes.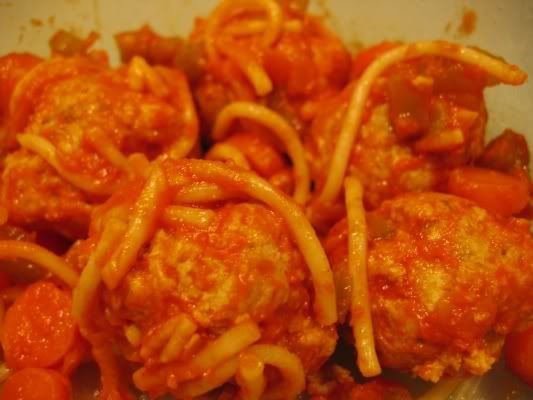 I saw Rachel Ray prepare the Nightcrawlers and Eyeballs (Spaghetti and Meatball Stoup) on her show. You can find the original recipe at the
foodnetwork site
. I of course made a few changes to lighten it up a bit.
Nightcrawlers and Eyeballs (the meatballs are 8 servings at 3 points a piece and the stoup is 8 servings at 3 points a piece as well)
Ingredients:

1 tsp olive oil
1 carrot, peeled and chopped into a small dice
1 medium yellow skinned onion, chopped
2 small ribs of celery from the heart, chopped
3 cloves of garlic, chopped
3 cups of tomato sauce, or 1 (14-ounce) can plus 1 (8-ounce) can
3 cups of chicken stock
1 pound of ground turkey
1/2 cup of grated fat free Parmesan cheese
1/2 cup of Italian bread crumbs
1/4 cup of egg beaters
2 tablespoons of chopped parsley leaves
1/2 pound of spaghetti, broken in half
1 cup of basil leaves, torn or shredded


Instructions:

Preheat a medium soup pot over medium heat. Add extra-virgin olive oil, carrots, onions, celery, garlic and saute 5 minutes. Add tomato sauce and stock, and cover pot. Turn up heat and bring to a fast boil.

While soup comes to a boil, mix the ground meat with cheese, bread crumbs, egg beaters and parsley. Roll into 1 1/2 to 2-inch balls.

Remove lid from soup and slide balls into soup. Bring back to a boil then stir in spaghetti. Reduce the heat and simmer soup 10 minutes more, until pasta is tender and balls have cooked through. Stir in basil and remove "stoup" from the stove.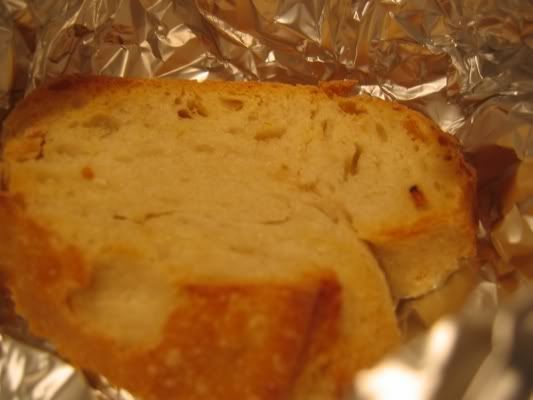 The Vampire poison bread is an idea that I came up with on my own. I found a really nice garlic French Bread at my local Giant Eagle store, which I sliced thinly and toasted. Once the bread was toasted to a golden brown I finished I rubbed a clove of garlic over the toast.


And for dessert I decided to make cute Halloween Cupcakes using the diet soda ca
ke recipe.

Diet Soda Cupcakes (24 servings at 2 points a piece)

Ingredients:

1 box dry cake mix - any flavor
1 can diet soda - any flavor
2 egg whites
Directions:

Mix the dry cake mix, the diet soda, and the egg whites until well blended. Pour into greased cupcake pans. Cook according to direction on the cake mix box.

I used devil food cake mix, I thought it would be appropriate for Halloween :) After baking the cupcakes and letting them cool, I frosted them with fat free cool whip that I had colored orange with food coloring. I finished them off with cute little black and orange sprinkles.


Update:
The Halloween feast turned out incredible. I was able to have a few friends over, and everyone seemed to enjoy it thoroughly. The Spaghetti Stoup was so easy to make and I had it finished in about a half an hour. It really reminded me of a traditional Spaghetti and Meatball meal, but without the thick sauce.
The Vampire Poison bread was a nice surprise as well. I just happened to luck out by finding the pre-made garlic bread at the store. And rubbing the clove of garlic on it after it was toasted was the icing on the cake. It gave it a very strong, but not overpowering, garlic flavor.
For the finish, the cupcakes were too cute in their Halloween Decor, and of course they tasted great. They were a nice 2 point treat to help me avoid eating all the candy that I was supposed to be handing out.
No post for tomorrow, unfortunately I have to be in the field for work. I hope everyone had a spookily great Halloween :)